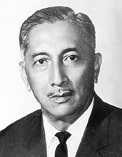 President Yusof bin Ishak
Encik Yusof bin Ishak is the first President of Singapore, leading Singapore from the year 1965 till the early months of 1971. He is born on 12th August, 1910 at Padang Gajah Trong about 18 miles from Taiping Perak. Encik Yusof is a Malay of Sumatran descent and can trace his lineage on the paternal side to Minangkabau, and on the maternal side to Langkat. They first settled in Penang and later, Perak.
Encik Yusof came from a family of nine. His father is Encik Ishak bin Ahmad who was the Acting Director of Fisheries, Straits Settlements and Federated Malay States. In the year 1923 when his father was posted to Singapore, he followed him and studied at the former Victoria Bridge School until December 1923.
In the year 1924, he was admitted into Raffles Institution and passed the Cambridge School Certificate with flying colours. After that, he prolonged his studies for 2 more years in the Queen's Scholarship class.
Encik Yusof was a very active and sporty boy during his school days. He joined several sports and light-weight lifting being one of them, which won him a place as the champion in 1933. Also as the most outstanding cadet of the School Cadet Corps, he became the first student in Singapore ever to be commissioned by the Governor as a 2nd Lieutenant in the Cadet Corps.
When his school life ended in 1929, Encik Yusof went into partnership with two other friends to publish a sports magazine devoted entirely to sports. In 1932, he joined 'Warta Malaya', which was the leading Malay newspaper during that time. With his talents and abilities as a journalist rapidly took him to the top ranks of Assistant Manager and Acting Editor within a short time. He resigned from his post in 1938 and together with some other friends, he established the 'Utusan Melayu Press Ltd' and became the first Managing Director.
However during the Japanese Occupation of Singapore, he returned to Malaya. When the Japanese had surrendered and left Singapore, only then did he came back to Singapore and resumed his post as Managing Director of 'Utusan Melayu'.
Other than being a Managing Director, he also had many important appointments with the Government then. He was on the Film Appeal Committee from 1948 to 1950. He was also a member of the Nature Reserve Committee. On 3rd July 1965, he became the Chancellor of the University of Singapore. He was also conferred the title of First Class Order of the Most Esteemed Royal Family Order of Brunei by the Sultan of Brunei in November 1960.
Eventually on 9th August 1965 when Singapore got her independence, Encik Yusof was elected to be the first president of the Republic of Singapore. He was re-appointed as president for another 4 years during 4th December 1967, making him first President over Singapore from 1965 to 1971.